Creative Sound Blaster Roar Pro
Powerful 5-driver Portable Bluetooth Speaker w/ Next Generation Wireless Personal PA System
Creative Sound Blaster Roar Pro Portable Bluetooth Speaker
Riding the success of the critically acclaimed Sound Blaster Roar, the Sound Blaster Roar Pro raises the bar for portable Bluetooth speakers with its improved 5-driver system that is powered by two high-performance amplifiers. The Roar Pro is also made for professionals in their respective fields. Pair with Creative iRoar Mic (sold separately), and you'll get a wireless personal PA system (Public Address system) for presentations, conferences or even karaoke sessions!
SOUND BLASTER ROAR HERITAGE
Staying true to the Sound Blaster Roar Heritage, the Roar Pro portable Bluetooth speaker continues to live up to the critically acclaimed sound signature and battle the laws of the acoustic engineering by packing all the awesome components and technology to bring you all that audio power within a compact enclosure, no larger than the size of a booklet. The Roar Pro now raises the bar for portable Bluetooth speakers with further enhancements: Improved 5-driver system, three preset audio profiles, longer battery life, and its ability to transform into a wireless personal PA system when paired with iRoar Mic (sold separately).
---
IMPROVED 5-DRIVER SYSTEM
Clean, Powerful Bass
The active 2.5″ driver pumps out impressive bass. Directing the audio upwards not only stabilizes the speaker, but also provides for a wider soundstage that doesn't require the listener to be situated in the audio sweet spot.
Even More Bass Enhancement
It is further enhanced with dual opposing, side-firing passive radiators that widen the soundstage dramatically.
Acoustically Optimised Speaker Design
The rigid monocoque endoskeleton chassis has fewer internal components that vibrate individually. This translates into lesser energy wastage and better audio quality.
Compact, Powerful, High Frequency Drivers
Durable and lightweight improved high frequency drivers deliver balanced highs. These dual 1.5″ premium drivers are also designed to provide far-field high frequency dispersion.
---
BI-AMPLIFIED DESIGN: TWO AMPS, NOT ONE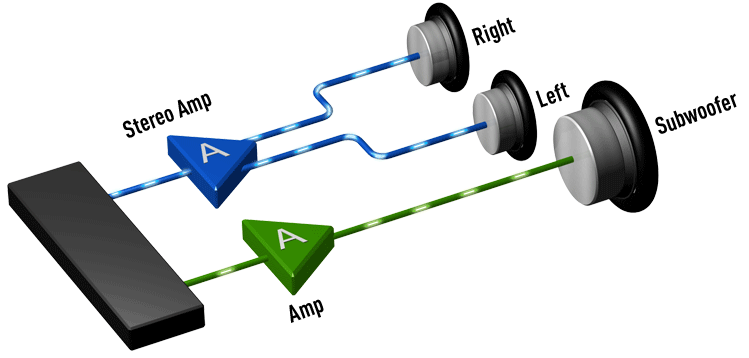 Most portable speakers utilize a single amplifier to reproduce the entire audio spectrum. With a single amplifier design, much demand goes into reproducing the lows and mids, which compromises the delivery of the highs. On the other hand, the Roar Pro utilizes two amplifiers - one dedicated to driving lows and mids, while the other is solely dedicated to deliver the high frequencies. This allows the speaker to produce uncompromisingly clear, high definition, and well-balanced music. The top firing bass and mid level driver is laid horizontally, reducing the speaker's center of gravity, thus stabilizing it.
SPACE-FILLING DISPERSION
While many other portable speakers produce small, constrained sound, the Roar Pro is designed to deliver space-filling audio. That's because we have incorporated far-field high frequency drivers in the Roar Pro, and these project audio further than other speakers of its class. This is complemented by the boxer-style layout, which also delivers a room-filling, non-sweet spot-specific audio experience.
ROAR: Instant No-holds-barred Audio Power
Most portable speakers either focus on audio power, thus compromising audio fidelity, or vice versa; removing the power of choice from end users. The Roar Pro is designed to be different. By default, it produces balanced, high-fidelity audio. And in scenarios where sheer audio power is needed - in large parties and social gatherings, for instance - users can press the ROAR button that instantly boosts the loudness, depth and spaciousness of the audio.
MEGASTEREO: WIDER SOUND STAGE FOR YOUR ENJOYMENT
The Roar Pro delivers amazing stereo audio performance on its own. Now, imagine your audio performance with two units of Roar Pro! Using the MegaStereo Cable, you can connect two units of Roar Pro to create a mega stereo experience of left+left and right+right channels to achieve a wider sound stage, giving you even more powerful, all-encompassing audio for your entertainment!
---
GENERAL FEATURES:
Wireless personal PA system when used with the iRoar Mic (sold separately)
Three Preset Audio Profiles: Warm, Neutral or Energetic
Rigid monocoque endoskeleton chassis
Five speakers total
Compact, Powerful, High Frequency 1.5" Drivers
Active 2.5" driver pumps out impressive bass
Advanced High Definition Audio Codecs — aptX Low Latency and AAC
Near Field Communication (NFC)
Bluetooth Speakerphone
Connect the Roar Pro to your PlayStation 4 console via the micro USB cable
Built-in MP3 Player
Built-in Voice Recorder
MicroSD Card Reader
Up to 10 hours of battery life
Roar Pro also doubles as a battery bank for your smartphone
Dimensions: 7.9"W x 4.5"D x 2.2"H
Authorized Internet Dealer
1-year Manufacturer's Warranty
PRODUCT SPECIFICATIONS:
System Configuration: One-piece
Weight:

Speaker: 1.10kg (2.5lbs)
Power Adaptor: 153g
USB Cable: 26g
UK Interchangeable Adaptor Plug: 19g
CE Interchangeable Adaptor Plug*: 17g

Bluetooth Version: Bluetooth 3.0
Bluetooth Profile: A2DP (Wireless Stereo Bluetooth), AVRCP (Bluetooth Remote Control), HFP (Hands-free Profile)
Supported Codecs: AAC, aptX, SBC, aptX-LL
SYSTEM REQUIREMENTS:
For wireless streaming: Compatible Bluetooth devices that support the Stereo Bluetooth Profile (A2DP)
For playback or recording via microSD slot:

microSD or microSDHC cards up to 32GB formatted in FAT/FAT32.
Common audio formats such as MP3, WMA and WAV (MP3 and WMA up to 320kbps).

For one-touch pairing: NFC-enabled devices
For phone calls: Compatible Bluetooth smartphones that support the Hands-Free Profile (HFP)
For direct connection to Line-in jack: Analog audio devices with a 3.5 mm output or RCA output
For Sound Blaster Control Panel:

For Windows OS:

Intel Core 2 Duo processor 2.2 GHz, AMD Athlon 64 x 2 Dual Core or equivalent processor
Microsoft Windows 10, Microsoft Windows 8.1 32-bit or 64-bit, Windows 8 32-bit or 64-bit, Windows 7 32-bit or 64-bit
1GB RAM
600MB of free hard disk space
Available USB 1.1, 2.0 or 3.0 port
Internet connection (optional)

For Mac OS:

Intel Core 2 Duo processor 2.8 GHz
Mac OS X 10.6 and above
1GB RAM
600MB of free hard disk space
Available USB 2.0 port
General
Primary Color

This is the main color of the item.
Black
Secondary Color

A color that compliments the main color of the product.
Black
Waterproof

Does not allow water to pass through the device keeping it dry.
No
Wireless Specifications
Bluetooth Connectivity

Bluetooth® technology allows two or more electronic devices to communicate with each other wirelessly, such as using your cell phones "hands-free" or transmitting music to Bluetooth enabled receiver. If a unit is Bluetooth capable, it typically can allow you to connect to your Bluetooth cell phone to make and receive calls. Others can access your phone and address book too via Bluetooth. Other Bluetooth capable units offer even more services, such as live traffic information and map upgrades.

More uses of Bluetooth technology include transmitting music to a compatible receiver, printing wirelessly from a computer, and many other wireless uses. Please see the item description for more specific information regarding what features the unit includes.
Yes
Built-In Microphone

This will designate if thedevice has a built-in microphone for the recording or transmitting of audio.
Yes
Bluetooth Range

The maximum distance (measured in feet) that the Bluetooth device can from the paired Bluetooth transmitter.
33 feet
Speaker Specifications
Speaker Configuration

This is the configuration of the speakers in the home theater system. The more speakers, the more realistic the surround sound is.
5.1 (2 Front Speakers, 2 Surround Speakers, 1 Center Speaker, and 1 Subwoofer)
Includes Subwoofer

This means that the speaker system includes a subwoofer.
Yes
Inputs
USB Input

This feature refers to whether or not the receiver features an input to connect a USB device via standard USB or mini-USB. The USB input may be a connection on the front or rear of the unit with an extension cable for connecting devices to the receiver. Some units have an optional input that allows for a USB adapter to be purchased separately and used with the unit.
Rear
3.5mm Stereo Jack

Uses a 3.5mm stereo jack to connect to an audio source. This is the common size found on most CD and Mp3 players, as well as most home computers.
Yes
Composite (RCA) Stereo Inputs

This is the number of composite (RCA) outputs on the unit.
0
Power
Power Source

The power source is the method in which the unit receives power. Some units will be powered by batteries, while others will need to be plugged in to an AC or DC power source.
Rechargeable Battery
Warranty and Return Policy
Parts Warranty Duration
1 year
Labor Warranty Duration
1 year
Warranty Provider
Manufacturer
Summary of Customer Ratings & Reviews
No questions have been asked about this item. Be the first!
Warning: The image depicted shows the resistance change when wiring multiple subwoofer terminals. Please refer to your subwoofer's owner's manual for the proper wiring of its terminals. Sonic Electronix, Inc. is not responsible for damage caused to your audio system or vehicle due to improper installation. Please call tech support at 1-877-289-7664 if you require additional assistance.
Product Name: Creative Sound Blaster Roar Pro