JBL BOOMBOX FOREST GREEN
Large Portable Bluetooth Speaker with HUGE BASS
Monstrous sound. Hard-hitting bass.
All day long.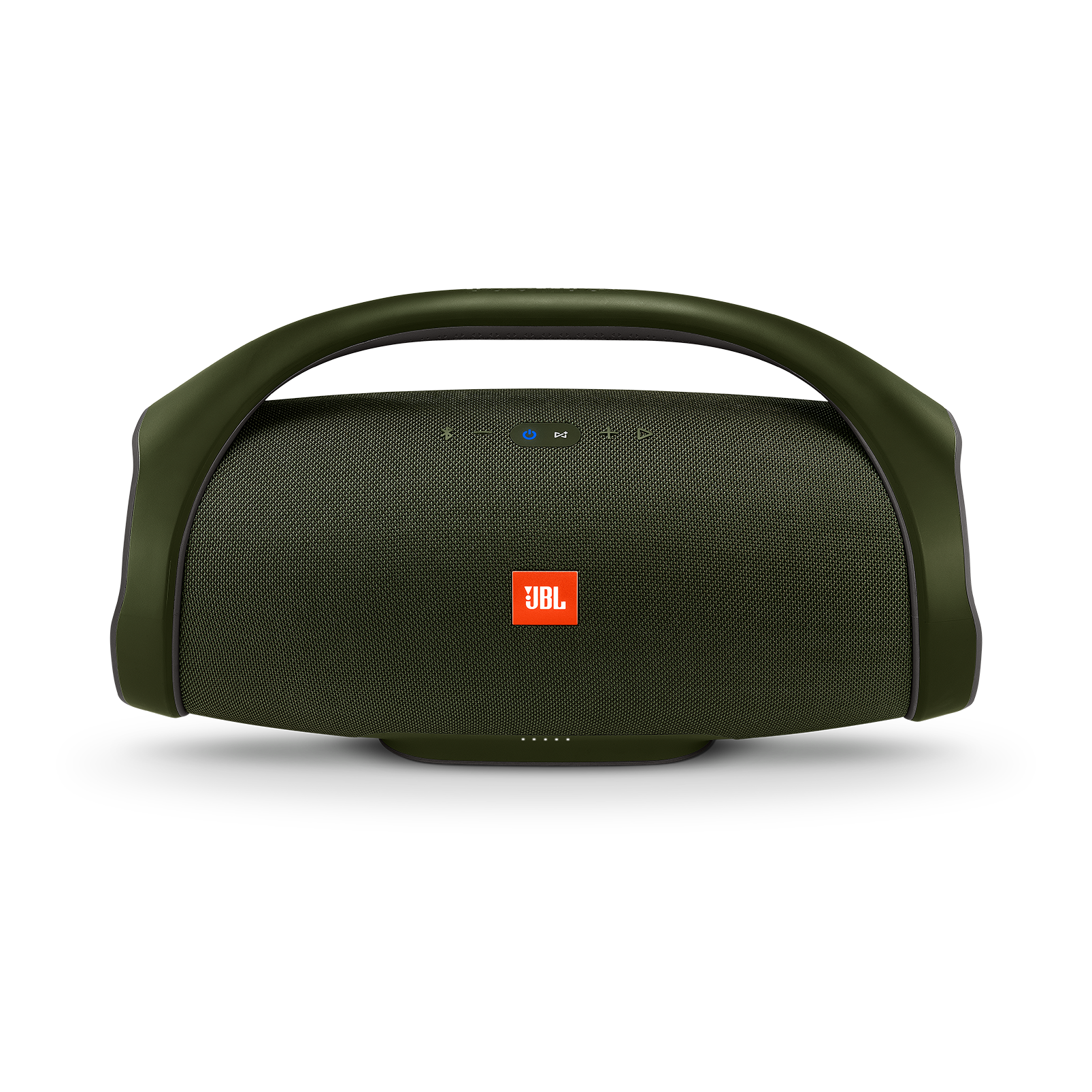 Made to be the most powerful, portable Bluetooth speaker, JBL Boombox delivers monstrous sound along with the hardest hitting bass.

Enjoy music for 24 hours without missing a beat. Imagine playing with your favorite beats from sunrise to sunrise on a single charge.

Use the massive 20,000mAh battery and dual charge out to charge your external devices anytime and keep music rocking.

Rugged enough to handle your wildest tailgate party, the JBL Boombox is IPX7 waterproof, which withstand any weather and even the most epic pool parties. Switch between indoor and outdoor modes to optimize sound wherever the party is. In addition, if more massive music is a must, you can connect more than 100 JBL Connect+ enabled speakers under Bluetooth range with just one press of a button.
---
General Features:
Wirelessly connect up to 2 smartphones and tablets so you can take turns DJ-ing the party
iPX7–rated Waterproof design

Equipped to endure endless beach and pool parties

24-HOUR PLAYTIME

Listen all day long with a rechargeable Li-ion battery that supports up to 24-hour playtime

JBL Connect+
Indoor/outdoor sound mode
Enhance your party by linking up more than 100 JBL Connect+ enabled speakers
Made of durable lifestyle material
Take crystal–clear calls and access Siri or Google Home from your Boombox with the touch of a button. Enjoy a noise and echo–cancelling speakerphone that lets you make and receive uninterrupted calls before seamless transitioning back to the music.
JBL Bass Radiator for BIG BASS
Authorized Internet Dealer
1-year Manufacturer's Warranty
---
THE FINE DETAILS
Output power (W): 2 x 30
Music playing time (hrs): 24
Dimensions: 10.01 x 19.48 x 7.69 (in)
25.45 x 49.5 x 19.55 (cm)
Weight: 11.57 lbs, 5.25 kgs
Bluetooth version: 4.2
Battery capacity (mAh): 20,000
Charging time (hrs): 6.5
3.5 mm audio cable Input: Yes
Auto-power off: Yes
Boombox
Power adaptor
Cable
---
Manuals & Downloads
The latest owner's manuals, quick start guides, and documents. Click for a complete list of all specs for this product
General
Primary Color

This is the main color of the item.
Black
Waterproof

Does not allow water to pass through the device keeping it dry.
Yes
Wireless Specifications
Bluetooth Connectivity

Bluetooth® technology allows two or more electronic devices to communicate with each other wirelessly, such as using your cell phones "hands-free" or transmitting music to Bluetooth enabled receiver. If a unit is Bluetooth capable, it typically can allow you to connect to your Bluetooth cell phone to make and receive calls. Others can access your phone and address book too via Bluetooth. Other Bluetooth capable units offer even more services, such as live traffic information and map upgrades.

More uses of Bluetooth technology include transmitting music to a compatible receiver, printing wirelessly from a computer, and many other wireless uses. Please see the item description for more specific information regarding what features the unit includes.
Yes
Built-In Microphone

This will designate if thedevice has a built-in microphone for the recording or transmitting of audio.
Yes
Bluetooth Range

The maximum distance (measured in feet) that the Bluetooth device can from the paired Bluetooth transmitter.
32 feet
Speaker Specifications
Total Watts

This is the total combined wattage of the portable speaker system.
60 watts
Speaker Configuration

This is the configuration of the speakers in the home theater system. The more speakers, the more realistic the surround sound is.
Stereo (2.0)
Inputs
USB Input

This feature refers to whether or not the receiver features an input to connect a USB device via standard USB or mini-USB. The USB input may be a connection on the front or rear of the unit with an extension cable for connecting devices to the receiver. Some units have an optional input that allows for a USB adapter to be purchased separately and used with the unit.
Yes
3.5mm Stereo Jack

Uses a 3.5mm stereo jack to connect to an audio source. This is the common size found on most CD and Mp3 players, as well as most home computers.
Yes
Docking Options
Compatible Devices

This feature tells you if this dock will be compatible with iPhone, Android or other operating systems.
Universal
Power
Power Source

The power source is the method in which the unit receives power. Some units will be powered by batteries, while others will need to be plugged in to an AC or DC power source.
Rechargeable Battery
Warranty and Return Policy
Parts Warranty Duration
1 year
Labor Warranty Duration
1 year
Warranty Provider
Manufacturer
Summary of Customer Ratings & Reviews
Site : 247 Sonic Electronix is disabled.
Warning: The image depicted shows the resistance change when wiring multiple subwoofer terminals. Please refer to your subwoofer's owner's manual for the proper wiring of its terminals. Sonic Electronix, Inc. is not responsible for damage caused to your audio system or vehicle due to improper installation. Please call tech support at 1-877-289-7664 if you require additional assistance.
Product Name: JBL BOOMBOX FOREST GREEN