JBL FLIP 4 BLACK
Full-featured waterproof portable Bluetooth speaker with Voice Assistant
The JBL FLIP 4 Portable Bluetooth® Speaker with Voice Assistant Integration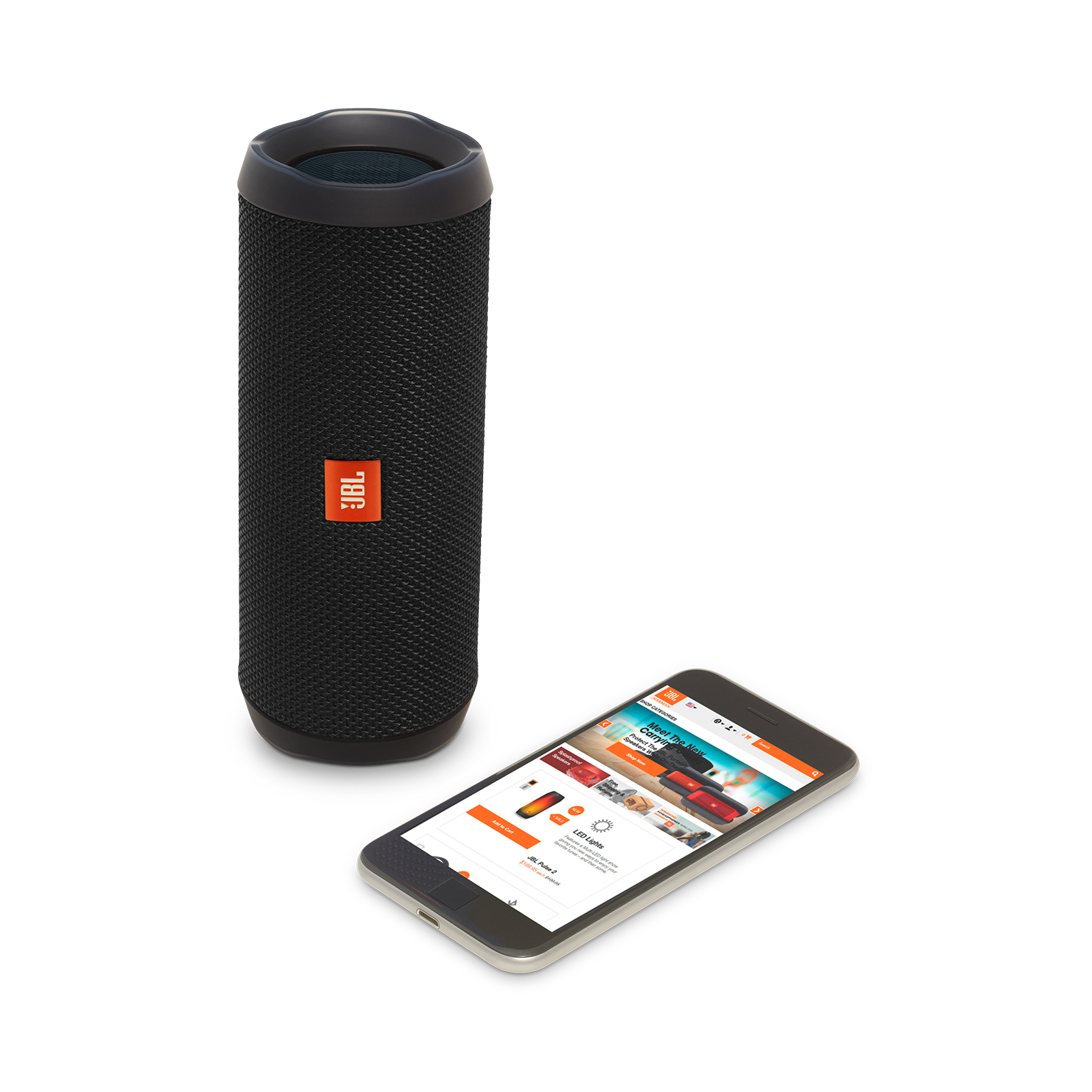 JBL Flip 4 is the next generation in the award-winning Flip series; it is a portable Bluetooth speaker that delivers surprisingly powerful stereo sound. This compact speaker is powered by a 3000mAh rechargeable Li-ion battery that offers up to 12 hours of continuous, high-quality audio playtime. Sporting durable, waterproof fabric materials that are available in 6 vibrant colors, Flip 4 is the all purpose, all weather companion that takes the party everywhere. It also features a built-in noise and echo cancelling speakerphone for crystal clear conference calls, and JBL Connect+ technology that can wirelessly links more than 100 JBL Connect+ enabled speakers together to amplify the listening experience. With a simple button press, you can activate and talk to Siri or Google Now from your JBL Flip 4.
---
General Features:
Wireless Bluetooth Streaming
PX7–rated splash–proof design; can even submerge in water
Delivers up to 12 hours of high-quality playtime
JBL Connect+
Enhance your party by linking up more than 100 JBL Connect+ enabled speakers
Made of durable lifestyle material
Take crystal–clear calls and access Siri or Google Home from your Flip 4 with the touch of a button. Enjoy a noise and echo–cancelling speakerphone that lets you make and receive uninterrupted calls before seamless transitioning back to the music.
Speakerphone: Yes
Authorized Internet Dealer
1-year Manufacturer's Warranty
Available in all these colors: Black, Red, Blue, Teal and Grey
See Related Items
1 x1 x JBL Flip 4
1 x JBL Micro USB Cable
1 x Quick Start Guide
1 x Safety Sheet
1 x Warranty Card
---
---
Manuals & Downloads
The latest owner's manuals, quick start guides, and documents.
General
Primary Color

This is the main color of the item.
Black
Waterproof

Does not allow water to pass through the device keeping it dry.
No
Wireless Specifications
Bluetooth Connectivity

Bluetooth® technology allows two or more electronic devices to communicate with each other wirelessly, such as using your cell phones "hands-free" or transmitting music to Bluetooth enabled receiver. If a unit is Bluetooth capable, it typically can allow you to connect to your Bluetooth cell phone to make and receive calls. Others can access your phone and address book too via Bluetooth. Other Bluetooth capable units offer even more services, such as live traffic information and map upgrades.

More uses of Bluetooth technology include transmitting music to a compatible receiver, printing wirelessly from a computer, and many other wireless uses. Please see the item description for more specific information regarding what features the unit includes.
Yes
Built-In Microphone

This will designate if thedevice has a built-in microphone for the recording or transmitting of audio.
Yes
Bluetooth Range

The maximum distance (measured in feet) that the Bluetooth device can from the paired Bluetooth transmitter.
32 feet
Speaker Specifications
Total Watts

This is the total combined wattage of the portable speaker system.
16 watts
Speaker Configuration

This is the configuration of the speakers in the home theater system. The more speakers, the more realistic the surround sound is.
Stereo (2.0)
Includes Subwoofer

This means that the speaker system includes a subwoofer.
No
Frequency Response

The range of frequencies the speaker will reproduce (lowest frequency to the highest). Bigger is better, meaning the wider the range, the better. The optimal range is 20 - 20,000 Hz (which is the range of human hearing).
70 - 20000 Hz
Docking Options
Compatible Devices

This feature tells you if this dock will be compatible with iPhone, Android or other operating systems.
Universal
Warranty and Return Policy
Parts Warranty Duration
1 year
Labor Warranty Duration
1 year
Warranty Provider
Manufacturer
Summary of Customer Ratings & Reviews
Site : 247 Sonic Electronix is disabled.
Warning: The image depicted shows the resistance change when wiring multiple subwoofer terminals. Please refer to your subwoofer's owner's manual for the proper wiring of its terminals. Sonic Electronix, Inc. is not responsible for damage caused to your audio system or vehicle due to improper installation. Please call tech support at 1-877-289-7664 if you require additional assistance.
Product Name: JBL FLIP 4 BLACK